---
Free entry tickets for manufacturers and mechanical shop floors.
METRIOS is glad to provide free entry tickets for visitors belonging to the metal cutting and stamping industry, manufacturers of punched parts, laser cut parts and EDM products,  plastic stamping products, seals, electric circuits and mechanical shop floors in general.

We are at EMO exhibition in Hannover, from 18 to 23 September 2017, HALL 6, Booth D-12. New models, new functionalities and customized demonstration as usual. How to get the free entry ticket for EMO Hannover: just write an email to info@metrios.net and state the number of visitors and how many days you will attend.

Free entry tickets - Scroll down and fill the contact form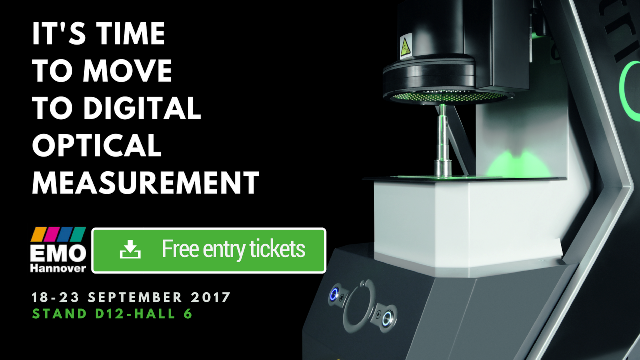 Save the date and come to visit METRIOS booth to see what's on!
We start from your need and we work on it. With a deep understanding of manufacturer's daily issues, METRIOS supplies automatic measuring machines for every application. From the metal cutting and stamping industry to  manufacturers of punched parts, laser cut parts and EDM products. From plastic stamping products, seals, and electric circuits to mechanical shop floors.
 
It's time to move to digital measurement.
Production methods have changed. You may need to change the way you have been measuring. 
If you are used to the profile projector as standard a reliable measuring equipment, but your aim is to change to a digital and fully automatic machine, METRIOS can be the next step. It is easy as a tablet, but powerful as a metrology instrument. High accuracy, up to 4 µm, fully automatic, wide industrial touch-screen, auto-focus and on-board step master together with three temperature sensors. You can create instant measuring reports with just one click. 
 
Every year, our aim is to provide you with new software developments. 
Come to see the new Multi-gesture technology on METRIOS. Just select the area you want to measure on the touch-screen interface and click on the measuring tool: get the dimensional value live! Check out all the functionalities: the Gearwheel tool, the help of the standard ISO tolerance database, and many more. 

Every year, we seize the opportunity to present you new models.
METRIOS is today available in 6 models and 3 versions. You can ask for a demo by your premise on the very last model, the MT2525, specifically designed for watch components, the dental implant industry and micromechanical components. 
 
Select a model, then choose a version. A couple of examples. 

PLUS version: motorized ring light as a standard.
Looking for a complete full automatic measuring machine?
That's why we designed the METRIOS PLUS Version, with motorized ring light, 16 indipendent sectors, coaxial light, back light and auto-focus. 
 
BASIC version: the most competitive in its category.
Looking for a price competitive equipment with standard functionalities?
The METRIOS BASIC Version, with its fixed ring light, 8 independent sectors, coaxial light, back light and auto-focus is definitely the most price attractive machine in the market. 
Save the date and come to visit METRIOS booth in HALL 6, BOOTH D-12. Our team will be pleased to welcome you with live demonstration on the full range of optical measuring machines. You can also choose to bring a couple of sample components, our team of technicians will create a free live programming and a complete measuring demonstration, from the beginning to the issuing of the measuring report.

Free ticket request